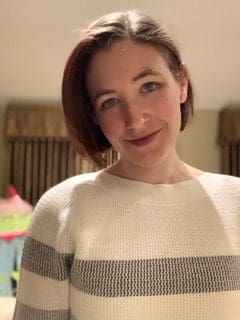 Erin Anderson began seeing clients with Lynn Zakeri Clinical Services, PLLC in 2021. I knew when talking to Erin within minutes how she was not only a patient listener, but a fast comprehender. Her diverse background that continued her education continuously made her a valued resource in my book!
Erin received her Masters in Child Development from The Erikson Institute, and additionally her Masters in Social Work from Loyola University Chicago. For the past 10 years, she worked in various mental health fields, including work with adoptive families, crisis intervention, developmental therapy with children in Early Intervention, and in a private practice.
After going through her own health journey, her passion for helping others develop a deeper understanding of the relationship between physical and mental health developed. She became a certified health and life coach to better help her clients use behavior change as a pathway to better mental health. Watching her clients experience the transformation that comes with improved physical health has been gratifying. Erin has experience with anxiety and depression, parent coaching, and expertise in weight management and disordered eating. She provides an individualized, customized approach to therapy and creates a therapeutic environment in which her clients feel safe, comfortable, and confident to make changes in their lives. 
If you want to inquire about her openings and schedule with Erin, I will introduce you right away, simply send me an email at info@lynnzakeri.com
Thank you as always, for your trust in me.
Lynn
Lynn Zakeri LCSW Clinical Services, PLLC
Posted Previously: Announcing!
You would probably strongly agree that therapy should not add additional stress to your life. That is why I have struggled over the years having to ask clients to juggle times, work around my openings, and even to find other therapists. I recently began the process of trying to find therapists who complement my practice, who are intuitive and smart, and who I would trust if I were looking for a therapist.
I got so lucky. I found some really special people that I now get to call my associates (independent contractors). If you want to learn more about Ellen, Jennifer, or Erin you can simply click their name or find them in my blog posts with announcements about their style and experience. If you want to inquire about their openings and schedule with them, I will introduce you right away, simply send me an email at info@lynnzakeri.com