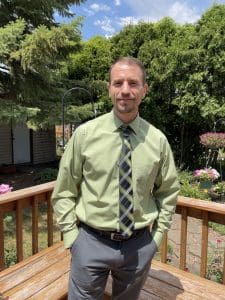 Introducing David!
David Krzysko, LCPC, EMDR trained, began his work with Lynn Zakeri LCSW Clinical Services, PLLC in 2022 but his counseling background began well before this year.  His resume had me really interested, but his experiences with homeless veterans and clinical experiences in mental health were not what was so eye-catching.  David has all sorts of experiences listed, from younger years at UPS while attending school to his tutoring and mentoring to his military services as a soldier.  He claimed to be disciplined, alert, and engaging.  What I found in our meetings is that he is also patient, thoughtful, and humble.  He is a lifelong learner, and most recently became trained in EMDR.
David said he believes strongly in the actual quality of care and he approaches every aspect of life this way.  His therapeutic process involves focus and collaboration, while practical.  He assesses obstacles in order to understand the core meaning, and together, he works with his clients to challenge those barriers …and to overcome them.  Acknowledging that therapy can be complicated and feel like even a struggle at times, he sees his role is supportive as he provides a safe space that creates and allows this transformative process to occur.  He says "My style of therapy is person-centered based, with a focus in motivational interviewing. I am skilled in working with people who suffer from depression, anxiety, and trauma. I have been highly trained in CBT, EMDR, conflict resolution, relaxation techniques, and trauma work. My interests are in neuropsychology, as well as neurobiology."
David's bio specifically states:  I am a U.S Army veteran. After leaving the military, I held a position as a labor worker for UPS for 7 years while I attended school full time. I then graduated from the University of Illinois in Chicago with a bachelor's in science in the field of psychology. After graduation, I immediately attended graduate school at Roosevelt University. While in school I gained experience as a mentor & tutor for children and adolescents at several different community centers throughout Chicago. While in graduate school, I also worked in a Cook County jail program as a therapist for almost 2 years. After graduating with a master's degree in clinical psychology I worked in an inpatient setting (IOP) with children and adolescents for over 3 years. I then transitioned to working as a therapist, and program supervisor, with homeless veterans for over four years. 
David's current work is in the area of private practice with children, adolescents and adults, veterans, and even group therapy. His EMDR experience is a valuable adjunct to all of us!  
If you want to inquire about his openings and schedule with David, I will introduce you right away, simply send me an email at info@lynnzakeri.com