Rebecca Stern She/Her/Hers, LCSW, PEL, MAT, began seeing clients with Lynn Zakeri Clinical Services, PLLC in 2022, but she is far from "new" to being a therapist. Rebecca brings years of diverse experience with her to the practice. In fact, she keeps surprising me with all the hats she has worn. From early intervention to senior citizens, from high school social work to homeless shelters, she has been a teacher as well as a mentor to many. There is probably no diagnosis she hasn't seen, but what really struck me about her was her ability to connect with anybody. Rebecca exudes a warmth and approachability that immediately puts people at ease. She has so much knowledge she shares with me while always making me feel so heard as she truly defines "a good listener."
Rebecca earned a Master's Degree in Art Therapy 27 years ago and began her practice working with children in the Chicago Public Schools. She went on to receive a Master's in Social Work with a Professional Educator's License to work in schools. To deepen her understanding and efficacy with individuals struggling with mental illness, Rebecca worked in various settings such as inpatient psychiatry.
Rebecca told me that "the strength of the human spirit has never ceased to amaze her. Each time a new person comes to me, I am honored to join them as they heal. It takes tremendous courage to initiate those first steps for change. It is my privilege to support my clients while maintaining a safe space for them to discover their resiliency obtain their goals."
She considers herself to be a generalist practitioner that will take her cues from you and what you need in the session. In her career, she has been fortunate to have gained experience working with all ages and a wide variety of populations. She has learned that we all have more in common than differences between us. She welcomes the rainbow and has experience in the TLGBQ+ community.
For those that may feel stuck in their progress with therapy or are seeking a new way to express themselves, she can offer art therapy. Rebecca explained how telling this is when used with families and couples, and that it can help you learn about yourself because you can't filter images like we do with words.
Together you and Rebecca will sort out the issues that brought you in so that you can reach your goals of becoming the version of yourself you've been missing. If you want to inquire about her openings and schedule with Rebecca, I will introduce you right away, simply send me an email at info@lynnzakeri.com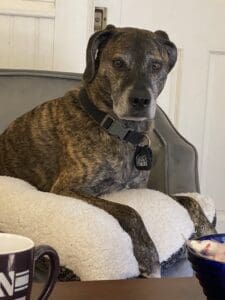 Shadow – often present at Rebecca's Evanston location (if desired)