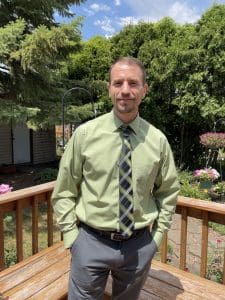 Introducing David!
David Krzysko, LCPC, EMDR, CCTP (Certified Clinical Trauma Professional), began his work with Lynn Zakeri LCSW Clinical Services, PLLC in 2022. As a lifelong learner, he is trained in EMDR and other trauma treatment methods, and has expertise with addictions as well. He is patient, thoughtful, and deeply intuitive, integrating relaxation techniques when useful to his clients in session.
David believes strongly in quality of care. His therapeutic process is focused and collaborative. He assesses obstacles in order to understand the core meaning, and together, he works with his clients to challenge–and overcome–those obstacles. A smart, intuitive listener, he sees his role as supportive, providing a safe space that creates and allows this transformative process to occur. 
"My style of therapy is person-centered, with a focus on motivational interviewing. I am skilled in working with people who suffer from depression, anxiety, and trauma.  I combine my knowledge of neuropsychology with neurobiology."
David's background includes CBT, EMDR, conflict resolution, relaxation techniques, and trauma work.  His diverse experience embraces working with incarcerated clients; inpatient and IOP with children and adolescents, as well as with homeless veterans in therapeutic and supervisory roles.  David, himself, is a former soldier in the U.S. Army.
David's current work is in the area of private practice with children, adolescents, adults, veterans, and in group therapy. He has a devoted clientele due to his insightful therapeutic expertise, with his invaluable skills in the treatment of trauma.
If you want to inquire about his openings and schedule with David, I will introduce you right away:  Simply send me an email at info@lynnzakeri.com