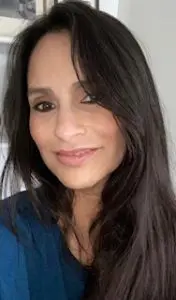 Introducing Ellen!
Ellen Lazar, LCSW, CADC, is licensed in Arizona (AZ), Indiana (IN), Ohio (OH), Michigan (MI), Georgia (GA), Florida (FL) and pending in Washington DC,  in addition to Illinois (IL).
Ellen began seeing clients with Lynn Zakeri Clinical Services, PLLC in 2021. I knew from the first time we talked that she was an excellent listener, a thoughtful responder, and a smart advocate.
 Shaped by her experience in public schools and institutional settings (hospital programs, ie inpatient, PHP, IOP, and substance rehab), she uses a holistic perspective to frame each client's unique treatment plan, regardless of their age and roles.  She integrates a client's lifestyle, cultural environment, relational patterns, and trauma history into her process.  Ellen also implements executive functioning techniques as appropriate.
Ellen works with all types of client systems:  Individuals, families, and couples.  She advocates for students by collaborating with their special service teams and other providers throughout the Chicagoland area, including out of state universities for her college clients.  
She creates a supportive dialogue to build an enduring rapport; she counsels with a conversational tone.  Ellen helps her clients uncover core beliefs that undermine their self-concepts that block their progress.  Together, they plan for change that fits the client's narrative, at the client's pace.  They develop tools to continue building stronger foundations and coping skills for their journeys in life. 
Ellen is my go-to when I have questions or when I need a compassionate ear. She knows what to say, and she helps me take a step forward.
If you want to inquire about her openings and schedule with Ellen, I will introduce you right away:  Simply send me an email at info@lynnzakeri.com
Thank you as always, for your trust in me.
Lynn
Lynn Zakeri LCSW Clinical Services, PLLC
Posted Previously: Announcing!
You would probably strongly agree that therapy should not add additional stress to your life. That is why I have struggled over the years having to ask clients to juggle times, work around my openings, and even to find other therapists. I recently began the process of trying to find therapists who complement my practice, who are intuitive and smart, and who I would trust if I were looking for a therapist.
I got so lucky. I found some really special people that I now get to call my associates (independent contractors). If you want to learn more about Ellen, Jennifer, or Erin you can simply click their name or find them in my blog posts with announcements about their style and experience. If you want to inquire about their openings and schedule with them, I will introduce you right away, simply send me an email at info@lynnzakeri.com